Grassroots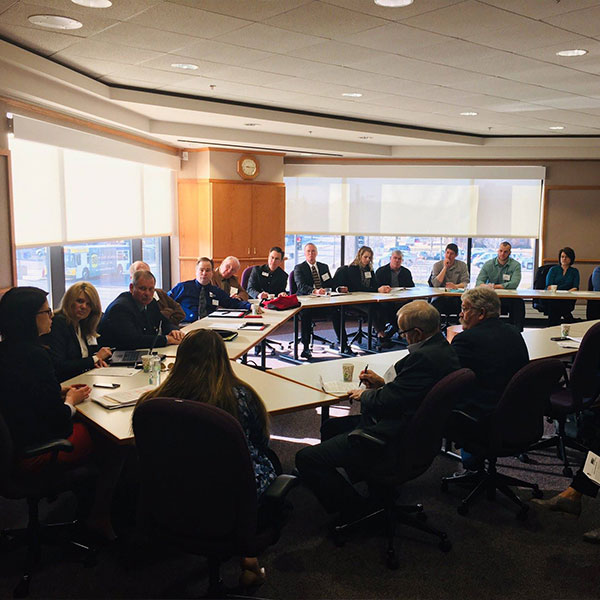 Grassroots political involvement
is in our genes
We were created with politics during the New Deal, and we continue to recognize the value political involvement brings our members.
Telling the cooperative story is essential, particularly when it comes to unique challenges our members face. We also advocate for flexibility so that electric cooperatives can operate efficiently and continue to provide safe, reliable, and affordable electricity even in the most remote areas of the state. Our time-tested participation has contributed positively to the outcome of the legislative process.
Through the guidance of an elected board of directors, electric cooperatives work to provide electricity at the lowest possible cost consistent with sound management. Federal, state, and local resolutions support electric energy policies that balance safety and reliability, affordability, and environmental sensitivity.
Cooperatives also promote and fund economic development initiatives to create jobs and maintain a high standard of living for rural Minnesotans. In planning for electric fuel sources in the next 10, 20 or 30 years, electric cooperatives make informed decisions that consider technology advances, fuel source availability and price, transmission infrastructure, emissions, population densities, and economic projections.
A statewide or national association's credibility depends on the knowledge, confidence, and enthusiasm of its members. MREA succeeds because its members interact and engage government officials in the business of powering homes, farms, and businesses.
Grassroots activities
Directors day at the Capitol

Directors day at the Capitol

During the MREA annual meeting, cooperative board directors and managers spend a day at the Minnesota Capitol discussing electric generation, transmission, and delivery policy issues with legislators. The directors and managers serve as the frontline for explaining the cooperative position on recently introduced bills being discussed and how they impact electric rates and reliability for rural member-owners.

Grassroots day at the Capitol

Grassroots day at the Capitol

Each legislative session, MREA member distribution cooperatives select delegates from among their employees, directors, member-owners, key account customers, and others to meet with state legislators at the Minnesota Capitol. The event is timed to coincide with final committee debates on electricity proposals.

Grassroots advocates share professional and personal expertise on bills that have a critical impact on the day-to-day operations of the cooperatives and the quality and affordability of electricity to the member-owner. The day motivates and engages grassroots advocates in electric issues and strengthens relationships with legislators.

Political action committees

Political action committees

Political action committees (PACs) are an easy way for co-op members to become involved in the political process. PACs allow ordinary citizens to pool their small contributions to make a meaningful donation to legislative candidates who support their point of view. That is precisely what our federal Action Committee for Rural Electrification (ACRE®) and state Rural Electric Political Action Committee (REPAC) do.

REPAC and ACRE allow electric co-op directors, managers, employees, and members to more actively participate in the legislative process. They allow us to join together to make our voice strong on electric utility issues. Without regard to party affiliation, our PACs make contributions to legislative candidates who show an interest in electric co-ops' legislative positions. ACRE also has a subdivision that gets co-op consumer-owners involved called ACRE Co-op Owners for Political Action.

ACRE and REPAC promote the improvement of government by encouraging electric co-ops to take a more active and effective part in government affairs. REPAC and ACRE, in conjunction with our national and state grassroots efforts, encourage electric co-ops to know and understand the nature and actions of their government, the critical political issues, and legislative records.

Our PACs do not "buy" legislative votes. PACs were formed to widen the political process and to allow ordinary citizens like us to have a clear and strong voice in the legislative halls and should not be held in a bad light simply because many in the public have inaccurate images or impressions about them.

REPAC


The Rural Electric Political Action Committee (REPAC) is a state political action committee funded by voluntary contributions from co-op directors, employees and consumer-owners. The funds are contributed to Minnesota State House and Senate candidates seeking public office. Contributions assist campaigns of Minnesota state legislators who protect electric co-ops' interests and acquaint metropolitan legislators with the vitality of electric cooperatives.

Legislative affairs on the state level is an essential program for electric co-ops, especially as the state legislature is considering electric power needs, emissions, affordability, reliability, and other important changes. To win on electric industry issues, we must have broad-based legislative support. Because we need support from both parties and all areas of the state, rural and metro, REPAC operates on a statewide basis with all state legislators supporting your local legislators and those legislators who have no electric co-ops in their district.

The size of REPAC prevents it from exerting undue influence on the legislative or electoral process, but its growing size does inform legislators that there is an increasingly high level of interest by our membership in their legislative activities, especially issues on electric industry reliability and other changes. REPAC is held accountable not only by its members but also by the regulations of the Campaign Finance and Public Disclosure Board. We encourage contributions of $50 or $100. Contributions of $100 receive a Willie Wiredhand pin to show your support of electric cooperatives in Minnesota. The contribution option of $25 is open for members as well. The REPAC contribution cycle runs from January 1 to December 31. Download REPAC membership form.

ACRE

The Action Committee for Rural Electrification (ACRE®) is the grassroots political action committee of the National Rural Electric Cooperative Association. ACRE represents the interests of the nation's nearly 930 non-profit electric cooperative systems and their 42 million consumers in rural, suburban and urban areas.

ACRE was organized to support federal candidates who will speak for and protect the interests of electric cooperatives and their consumers. ACRE is bipartisan, and its contributions are based on a candidate's record of support for rural electrification, not on his/her political affiliation. The process by which candidates are chosen to receive support from ACRE is rigorous, requiring the approval of state ACRE committees, NRECA's ACRE staff and electric co-op state association CEOs.

ACRE supports congressional candidates, regardless of party, who share public policy goals that are consistent with the mission of member-owned electric cooperatives. Also, half of the contributions to ACRE are returned to the statewide associations for use in state elections. ACRE does not contribute to presidential campaigns.

The PAC is comprised of more than 35,000 individual contributions from electric cooperative directors, managers, employees and consumers nationwide. The average donation to ACRE is $44 per year. ACRE is truly a grassroots PAC and is a reflection of our membership.

The ACRE contribution cycle runs from January 1 and ends on December 31. All PAC contributions, including ACRE's monthly disclosure report, are available from the Federal Election Commission's website at www.fec.gov

ACRE Co-op Owners for Political Action

ACRE Co-op Owners for Political Action

In 2003, NRECA launched ACRE Co-op Owners for Political Action, to involve co-op consumer-owners in ACRE.

As you have heard many times before, having a business plan is essential for the day-to-day operations of how a cooperative does business. Having a political strategy is just as important. Part of that political plan is the support of ACRE®. Opening new fields of opportunity, ACRE Co-op Owners for Political Action® for consumer-owners unleashes a more powerful voice for electric cooperatives.

NRECA Chief Executive Officer Jim Matheson sees this program as an opportunity for electric cooperative consumers to become more involved in the political process and supportive of their cooperatives. Their participation in ACRE Co-op Owners is the next logical step in ensuring that the voice of rural electrification remains loud and clear in helping shape the electric cooperative agenda. Along with a strong grassroots network, Co-op Owners for Political Action is another essential tool for the cooperative business model.

For more information on who is eligible to join ACRE and ACRE Co-op Owners for Political Action, and how to build an active program at your co-op, email ACRE, acreteam@nreca.coop.