MiEnergy Coop hosted two field hearings on October 3 as part of the Minnesota House of Representatives' three-day mini session in southeastern Minnesota.
The cooperative provided testimony on disaster relief and broadband funding for the Greater Minnesota Jobs and Economic Development Hearing. The group of nine representatives also heard testimony from the co-op on energy policy and initiatives for the Energy and Climate Finance and Policy Hearing.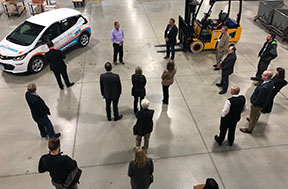 "Hosting the House mini-session hearings was an extraordinary opportunity to showcase the innovative technologies and practices of MiEnergy Cooperative," explained Ted Kjos, MiEnergy's vice president of marketing and external relations.
The nearly three-hour event kicked off with a tour of the co-op's headquarters, a fitting place, as it was the recipient of disaster relief funding following the flood of 2007. The tour highlighted the energy efficiency and conservation efforts built into the construction of the headquarters, as well as an up-close look at advancements in the behind the scenes technology that helps the cooperative's employees meet the ever-changing needs of its membership. From electronic billing and online apps members to pay bills and monitor their energy use, to viewing the live electric mapping of its system, an onsite community solar array, electric vehicles and forklift, MiEnergy showcased why it is viewed as a leader in the electric co-op industry.
According to Brian Krambeer, MiEnergy's president/CEO, the event was an opportunity to highlight the technologies and operations of an electric cooperative to urban legislators. "The more they know and understand electric cooperatives, the better the opportunity is for developing good legislation."
Krambeer addressed the importance of disaster relief funding by the state, and the critical role Representative Gene Pelowski, who chaired the day's event, played in the legislative process following the Rushford flood. The co-op suffered significant flood damage in 2007 to its office, warehouse, inventory, fleet, and distribution system. Krambeer explained that at the time of the flood, electric cooperatives were not defined, so it was unable to initially apply for disaster relief assistance from the state. MiEnergy's predecessor at the time, Tri-County Electric Cooperative, eventually received $2.3 million in state assistance as a 90 percent forgivable loan, which helped cover the remainder of replacing its fleet. "Thank you, legislators and Rep. Pelowski, who led the way to rework the disaster relief language, so it includes electric cooperatives and allows for relief to be dispatched without the necessity of a special session," Krambeer said.
Legislators also heard testimony on what led to the creation of MiBroadband, which was formed by three cooperatives (Mabel Cooperative Telephone Company, MiEnergy and Spring Grove Communications) looking to serve high-speed internet needs of those living in unserved and underserved areas of southeastern Minnesota and northeastern Iowa. Vassil Vutov, MiEnergy's vice president of information technology, explained how the co-op built a network backbone with a combination of fiber and wireless technology to connect its Rushford and Cresco offices.

As the electric industry evolves, communicating via broadband to its 43 substations in Iowa and Minnesota is a necessity for MiEnergy. This combination of fiber and wireless technology, known as fixed wireless broadband, is the solution for the electric co-op's needs, and the ample amount of expand-ability is how the joint effort with MiBroadband can help make reliable, high-speed internet service a reality for residents living in rural areas. MiEnergy has wireless towers currently in Cresco, Rushford, Peterson, and Fountain. As MiEnergy expands its communications technology to all substations, MiBroadband service can be offered in those areas. MiBroadband CEO Jill Fishbaugher noted its Minnesota Border-to-Border grant application request of $2.2 million of a $5 million project that would bring broadband to 12 townships in Fillmore County and three townships in Mower County. It would add 417 fiber passings and over 1,000 wireless passings.

MiEnergy's final presenters were Kent Whitcomb, member service director, and Kjos on the co-op's residential battery storage pilot. The purpose of the five-year pilot is to gain insight into battery technology. Whitcomb explained how MiEnergy is one of four electric cooperatives in the nation that is part of this pilot. The co-op has six battery units in the homes of members in Minnesota and Iowa. The 16-kilowatt-hour batteries were the largest capacity available for purchase at the time but are not ready for mainstream as it is still cost-prohibitive for the average user. On average, the units can cover about 30 percent of a home's energy use, but that number can fluctuate depending on how much power a home is using. The co-op is researching the battery as a tool for energy management with the idea of taking a home off the grid to be powered by the battery during peak energy demand periods. With advances in battery capacity technology, the costs could go down, and batteries could be the future for reducing energy costs while providing backup power during outages.
Kjos then led a discussion on energy policy about the challenges and opportunities for storage batteries, transportation, renewable energy, distributed generation, and grid reliability. "It is important for policymakers to see firsthand how legislation affects the communities of greater Minnesota. This mini session afforded legislators and the community a time to discuss issues of importance," Kjos stated.
MiEnergy Cooperative is a member-owned electric distribution cooperative and is the result of a merger between Hawkeye REC, of Cresco, Iowa, and Tri-County Electric Cooperative, of Rushford, Minn. in 2017. It maintains 5,500 miles of power lines covering most of Fillmore, Houston and Winona counties in Minnesota and Chickasaw, Howard and Winneshiek counties in Iowa. The cooperative also serves small pockets bordering those counties. It provides electricity to more than 18,700 members in northeastern Iowa and southeastern Minnesota. MiEnergy is a Touchstone Energy Cooperatives.