Winter Storm Wesley storm damage information in Minnesota as of April 12, 2019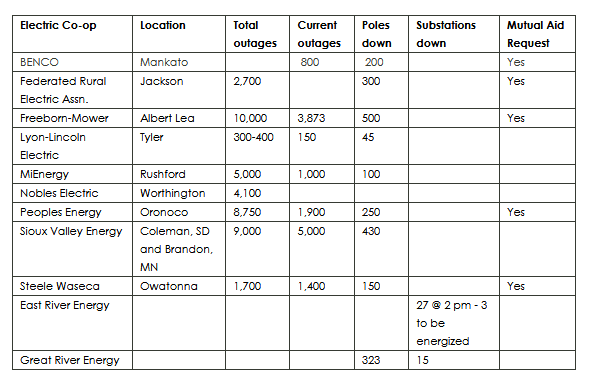 Mutual aid storm relief information
Stearns Electric and Dakota Electric are sending crews to Peoples Electric Cooperative.
Iowa is sending 70 lineworkers to four co-ops in southern Minnesota.
Four employees from Meeker Electric Co-op left this morning to assist Nobles Cooperative Electric Federated Rural Electric.
Lake Region sent eight lineworkers to Peoples Energy on Friday morning.
BENCO Electric will receive mutual aid assistance from Highline Construction, Brown County REA, MN Valley Jordon, and Dakota Electric beginning Saturday, April 13.
Freeborn-Mower will have assistance from 124 lineworkers on Saturday. They've secured contractor crews as well as help from a number of western Wisconsin Co-ops through their Dairyland mutual assistance program.
Federated appreciates help from four Iowa electric cooperatives that are sending a total of 18 lineworkers. Contractor Karian Peterson is sending nine lineworkers. Two from Jackson municipal are assisting, along with two from Meeker Electric Cooperative in Litchfield. That brings thetotal of line crews working in Jackson County to more than 60 working outage restoration.
Sioux Valley Energy has called on 27 contract lineworkers and 12 lineworkers from other SD co-ops, including FEM Electric, Codington – Clark electric, H-D Electric, and Lake Region Electric.