$20,250 awarded to local organizations by Lake Region Electric Cooperative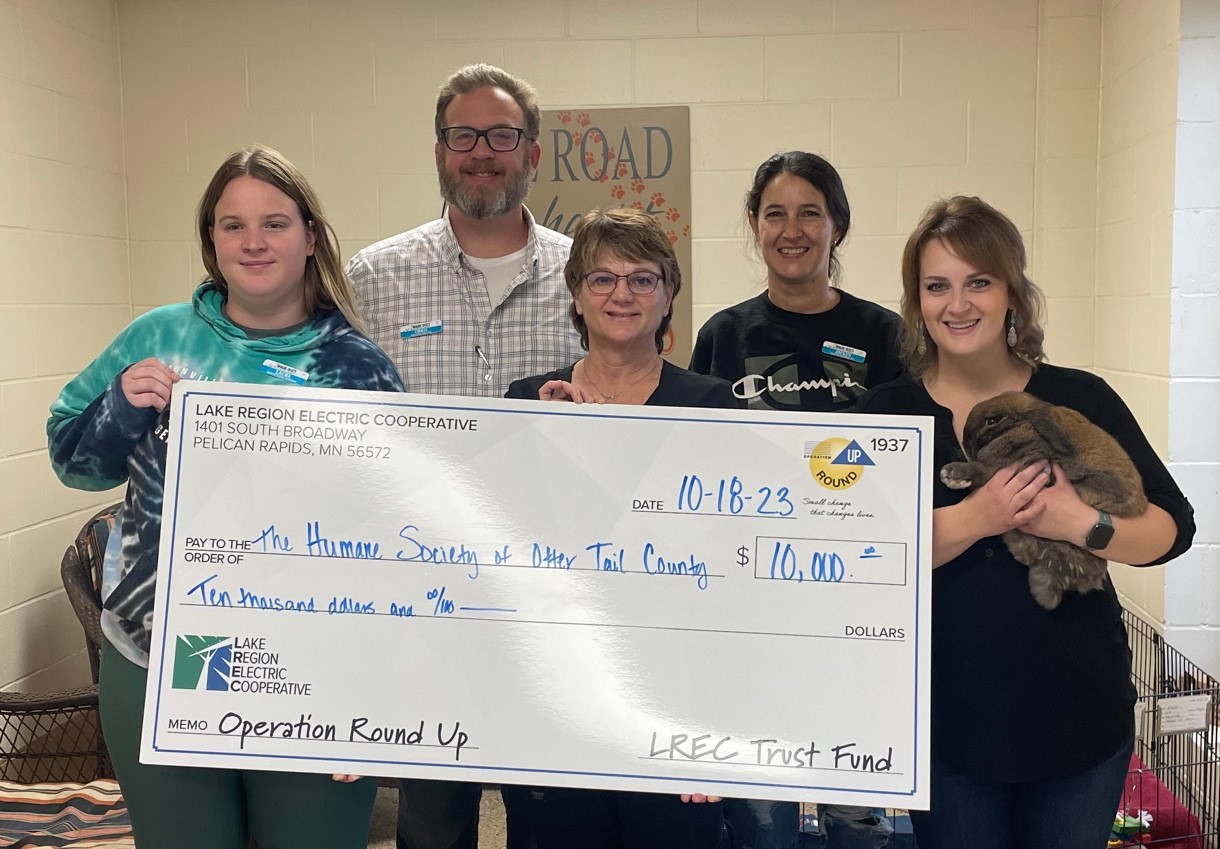 PELICAN RAPIDS, MN—Funded by the contributions of Lake Region Electric Cooperative's (LREC) generous members, the Operation Round Up (ORU) Board of Trustees recently awarded $20,250 to various community organizations. Within the monies awarded was LREC's largest donation to an organization to date.
The Humane Society of Otter Tail County (HSOTC) was the recipient of a $10,000 contribution for their building expansion project, or as they call it, expanding their "pawprint." As HSOTC states, "we are confident that a shelter expansion at our existing location would allow us to care for more animals with greater efficiency," and ORU is excited to help this pawsitive endeavor.
The eight other organizations receiving funding during the quarterly ORU meeting include:
$2,500 to the Henning Fire Department Relief Association for wildland fire response equipment
$2,500 to the Pelican Rapids Community Theatre for production of The Music Man the musical
$1,500 to Tonseth Lutheran Church for the purchase of an AED machine
$1,000 to LongView Carbon Farms for the creation of education materials
$1,000 to Save the Trinity for their Trinity Center Kids Quilt Camp
$750 to Save the Trinity for their Santa Days
$500 for the Antrim Family Foundation's annual Memorial Kids Fishing Tournament to raise awareness for connective disorders
$500 to the New York Mills Arts Retreat for the Longest Night Music Festival
Through ORU's efforts since 2007, this charitable fundraising program has awarded $626,370. Funding for ORU stems from LREC members rounding up to the nearest dollar on their electric bills each month. If you are a Lake Region member and would like to participate in ORU, please visit www.lrec.coop/ORU.
Lake Region is extremely thankful and appreciative of the beautiful gifts ORU continues to give our local communities. If you are interested in learning more about ORU or have a community project needing funding, please complete the ORU Request for Funding form and submit it with the required supporting documentation at www.lrec.coop/ORU. The next ORU application deadline is March 15, 2024.
Lake Region Electric Cooperative (LREC) is a member-owned, member-controlled electric utility serving more than 24,000 member-consumers in the counties of Otter Tail, Wilkin, Grant, Douglas, Clay and Becker. LREC has a strong commitment to its member-consumers who represent all 50 states. To best serve its member-consumers, LREC has 30 substations which power approximately 4,045 miles of overhead lines and approximately 1,815 miles of underground lines. LREC's service territory is located in west central Minnesota and has 1,000 lakes and a diverse topography.