WRIGHT-HENNEPIN MEMBERS DONATE $35,500 TO LOCAL ORGANIZATIONS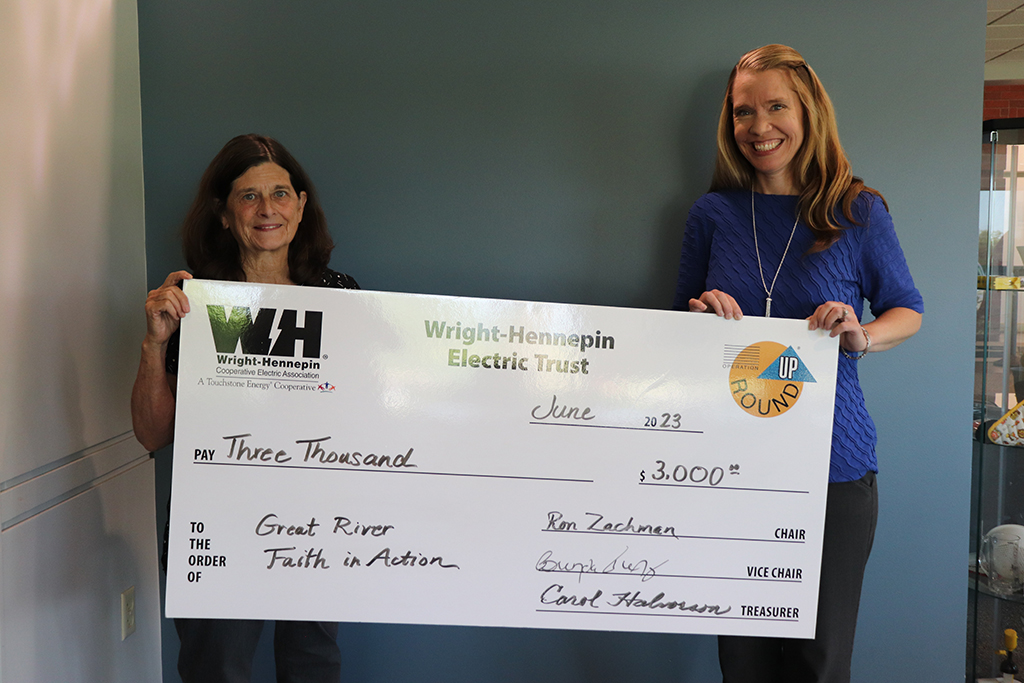 Rockford, Minn. (July 13, 2023) — Wright-Hennepin Cooperative Electric Association (WH) members who participate in Operation Round Up (ORU) recently donated grants totaling $35,500 in June. ORU has awarded more than $4.8 million since it began in 1994.
ORU participants allow their electric bills to be rounded up to the nearest dollar. The rounded amount is then used for donations supporting local programs. Approximately 90% of WH's members participate in the ORU program, contributing a total of almost $20,000 each month. ORU's board manages the donated money, which is held in a trust fund. Through a selection process and review of guidelines, the ORU trust board evaluates funding requests on a bimonthly basis.
The ORU trust board donated the following on behalf of WH members at their June meeting:
$10,000, Community Action Partnership of Hennepin County, funds to provide low-income energy assistance.
$10,000 LSS Crisis Nursery, funds to support Wright County parents in crisis and keep children safe.
$3,000, Great River Faith in Action, funds for program support.
$3,000, TreeHouse, Inc., funds to support the cost of one van for three months.
$2,000, CAER, funds to support renovation of the reception/office area.
$2,000, The Gillespie Center, funds to support activities and programs for seniors.
$2,000, Relate Counseling Center, funds to support 24-hour answering service for counseling needs.
$2,000, Wright County Frontline Outreach, funds for first responders to provide support to those they encounter.
$1,000, Fishing Klinics for Kids, funds to support the Klinic during Buffalo Days and other events.
$300, Rockford All Night Grad Party, funds to support a safe all-night graduation party.
$200, Roaming Buffalo 4H Club, funds to support community service project to maintain the Heritage Garden at the Wright County Museum.
Those interested in ORU funds can learn more about the types of activities ORU supports and find the grant application by visiting https://www.bit.ly/WH-ORU, emailing oru@whe.org, or calling Lisa Zipp, Administrator to the Trust, at (763) 477-6126.
Wright-Hennepin Cooperative Electric Association is a member-owned, not-for-profit electric utility that provides power to rural Wright County and western Hennepin County. The cooperative has been a corporate citizen to the area since 1937 and currently serves more than 58,000 electric accounts. It is headquartered in Rockford, Minn.